The joy of healthy vitality
At IAMS, we believe in the joy of healthy vitality! Our range, IAMS for Vitality, gives your pet complete and balanced nutrition, combining high levels of animal protein with an irresistible taste.
We have a wide range of tasty recipes for cat and dog, helping to support your pet's vitality and letting their true personality shine through every day.
We're here to champion the joy of vitality
High levels of animal protein
Proven health benefits
Over 70 years of experience
Wide range of flavours & textures
Taste locked into every bite
With Fresh Chicken
Satisfaction guaranteed or your money back!
IAMS for Vitality comes with our Furry Seal of Approval, we are so confident your pet will enjoy the benefits of healthy vitality we'll give you 100% of your money back if they are not satisfied!
To find out more about the IAMS 100% Money Back Guarantee click here.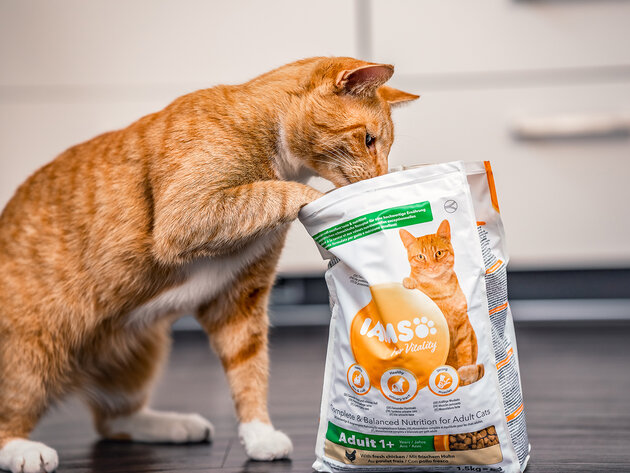 Perfekt abgestimmte Nahrung. Keine Kompromisse.
Qualität ist für uns oberste Priorität. Deshalb verarbeiten wir in unseren Rezepturen ausschließlich hochwertige und schmackhafte Inhaltsstoffe.
Mehr über uns
Unser Engagement für Innovation und Qualität
IAMS gibt sich nur mit dem Besten zufrieden. Die von uns verarbeiteten Inhaltsstoffe werden strengsten Kontrollen unterzogen: von der Anlieferung der Zutaten über die Zubereitung bis hin zum Versand der Futterbeutel.
Mehr über uns
What our customers say
Since our cat is a bit overweight, our vet recommended the food from Iams, our cat now receives the recommended amount twice a day and is now slowly reaching almost his ideal weight. Our cat tasted good and so I can recommend it.
Amazon customer
My maincoon cat only wants this food! I have a good feeling when feeding! My cat likes it!
Amazon customer
After I started feeding the food, my cat's skin visibly improved. The coat also shines more now. The food was also accepted right away - now she loves the food. Super practical: the packaging is resealable. I particularly like the fact that the product is produced in Europe.
Amazon customer
My two cats took it well. It seems to taste good. And that's a pleasure to see it. Clear purchase recommendation. ;-)
Amazon customer
Our cat loves it! She did not react so positively to other branded food. The three of us are very happy.
Amazon customer
The price is right, the cats liked it very good, everything was great.
Amazon customer