Dry food for dogs
Perfectly balanced with a great taste

High-quality dry food with a high share of animal protein
At IAMS we believe in creating nutrition that respects the natural eating needs of dogs. All our complete and balanced dry food recipes are formulated with high-quality protein for an irresistible taste that is locked in every bite. To support a healthy, happy, and active life from the very beginning.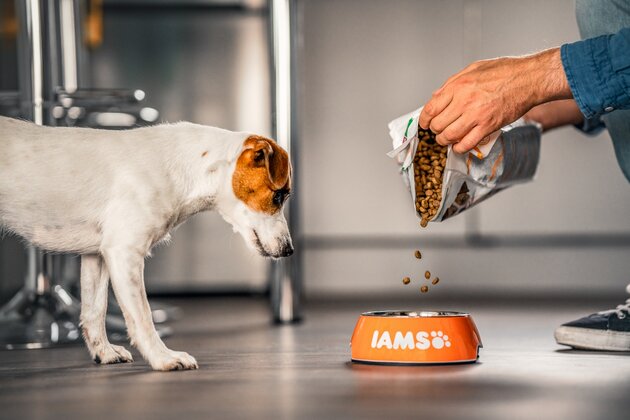 Great taste with great ingredients
Your dog's well-being is our top priority. That's why IAMS dry food recipes contain many valuable components: Every recipe contains natural ingredients, a high share of animal protein and several important vitamins!
Premium dry food for visible well-being
All our IAMS dry foods support your dog to live a healthy, happy, and active life. The recipes for every life stage help to build and maintain a healthy immune system. The high share of animal protein ensures strong muscles, while the contained dietary fibre promotes healthy digestion. Enriched with omega-6 and -3 fatty acids, all our recipes support the maintenance of healthy skin and a shiny coat. With every bite, the strong kibble improves your dog's dental health. Our IAMS dry food is our 100% complete and balanced dog food tailored to your pet's specific needs.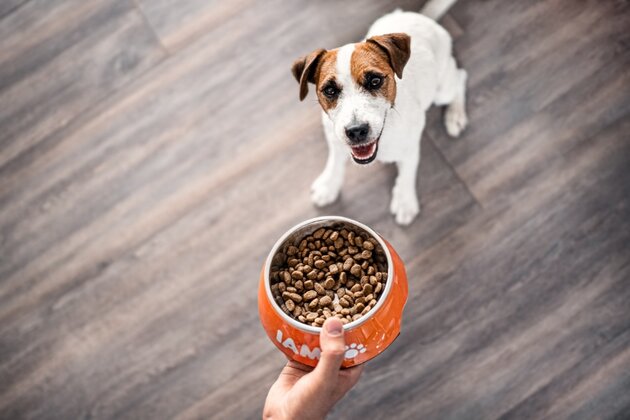 Frequently asked questions
When feeding for the first time, gradually introduce IAMS into your dog's diet over a period of 4 days. Your dog may eat more or less of the recommended amount depending on age, temperament and activity level.
The IAMS dry food range offers the right food for every dog, ideally suited to different sizes and life stages. There is a separate food for puppies, for adult dogs and for senior dogs. Within the age group, a distinction is made between small / medium and large breeds in order to be able to offer each dog a tailored nutrient supply and suitable kibble size.
For adult and older dogs, there is also a weight control food that is suitable for all breeds.
The IAMS dry food recipes are based on chicken as easily digestible protein source. However, the food is not particularly formulated for the specific needs of dogs with sensitive digestion.
IAMS dry foods for dogs are wheat-free* but not grain free as they contain maize grits, barley and rice, a variating carbohydrate blend depending on product recipe. All ingredients used for the production of IAMS dry food for dogs are carefully selected and processed to be suitable sources of energy for dogs.
*produced in a factory that handles wheat
To keep the food in good condition, we recommend storing it in a cool, dry place. Ensure that the bag is always sealed.
IAMS dry foods for dogs provide a tasty food made of high-quality ingredients resulting in a food your dog will love with all the nutrients they need to live a healthy, active and happy life full of vitality. IAMS dry dog food is 100% complete and balanced, with high-quality protein, essential for your dog to thrive on. Eating the size tailored kibbles of IAMS dry food has a cleaning effect that helps keeping the teeth of your dog strong and healthy.
Yes, it is possible to macerate the IAMS dry food kibbles to make them softer and in that way easier to eat for your puppy.